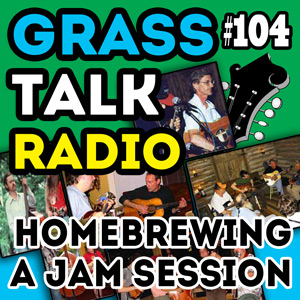 GrassTalkRadio.com - Episode 104

Homebrewing a Jam Session - If you can only get lousy bread at the store, you should learn to make your own! If the local grocery store only sells crummy rot gut beer, you learn to make your own. If the jam sessions you attend do not suit you, you start your own jam session. Yes. I said you. Don't sit around hoping someone else will take the initiative. Just do it yourself.

Because I was pressed for time this week, you will discover that this episode is a little different. While I discuss how to start your own jam session I am also rattling pots and brewing a 5 gallon batch of homebrewed apricot ale. You can learn a little about both subjects if you listen in.
If you enjoy the show you can support what I am doing by visiting my online store at http://www.payhip.com/bradleylaird.
For additional goodies, be sure to scope out the show notes here: http://www.bradleylaird.com/podcast/episode-104-show-notes.html
GrassTalkRadio is a show for people who play or are learning to play bluegrass--hillbilly jazz which thrives on jamming!