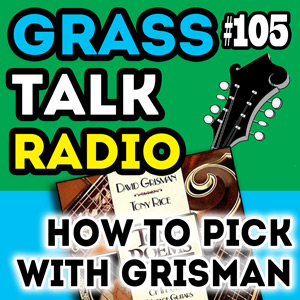 GrassTalkRadio.com - Episode 105

How To Pick With Grisman - Would your wildest dreams come true if you could sit and jam with David Grisman for hours on end? Or maybe Tony Rice, Sam Bush, Jerry Garcia, or any of your musical heros? You'd be surprised at how easily this can be done. And guess what? You will become a better player at the same time.

I also give a quick update on the progress of the Apricot Ale I brewed during Episode 104.
If you enjoy the show you can support what I am doing by visiting my online store at http://www.payhip.com/bradleylaird.
For additional goodies, be sure to scope out the show notes here: http://www.bradleylaird.com/podcast/episode-105-show-notes.html
GrassTalkRadio is a show for people who play or are learning to play bluegrass--one of the rare styles in which you can easily meet and possibly jam with the biggest "stars" in the genre!