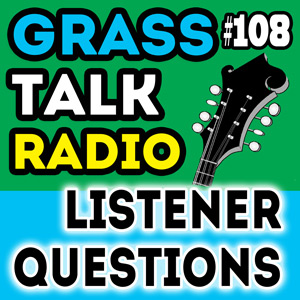 GrassTalkRadio.com - Episode 108

Listener Questions - By request, I begin this episode by telling the story of how I helped rob a bank!
After that I clear my email inbox and answer some listener questions and comments. I decided to do this "on air" because you might have the same question. It's sort of a "kill two birds with one stone" effort.
I think you will learn a few things and enjoy hearing what other people are saying and thinking. If you have written to me recently I may be replying to you!
If you enjoy the show you can support what I am doing by visiting my online store at http://www.payhip.com/bradleylaird.
For additional goodies, be sure to scope out the show notes here: http://www.bradleylaird.com/podcast/episode-108-show-notes.html
GrassTalkRadio is a show for people who have discovered bluegrass music and want to learn to play it too!