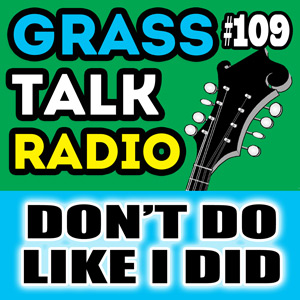 GrassTalkRadio.com - Episode 109

Don't Do Like I Did - When I got home from the jam session last night I had one of those forehead slapping, Homer Simpson "Doh!" moments. I hope you enjoy this little short episode describing something you should never do at a gig or a jam session.
The number of listeners to this podcast has risen over the last months (which is a great thing) but the donations, purchases or other financial support has not risen accordingly. Due to technical bandwidth limitations with my current podcast hosting plan (Yes, it costs me to put these out.) I was forced to squeeze this episode down to the bare minimum in terms of length and file size. I would really like to move up to the "unlimited plan" with my hosting service but, frankly, that all depends on you.
You can help keep this show going and growing by becoming a GrassTalkRadio Supporter.
If you enjoy the show you can also support what I am doing by visiting my online store at http://www.payhip.com/bradleylaird.
Additional information about the podcast is always found here on the episode show notes page: http://www.bradleylaird.com/podcast/episode-109-show-notes.html
GrassTalkRadio is a show for people who love bluegrass music and get a thrill participating and contributing to the scene.