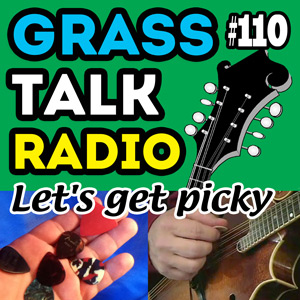 GrassTalkRadio.com - Episode 110

Let's Get Picky - The pick. That's where it starts. You can have a hundred grand tied up in a glorious instrument but if your pick is crummy, or if you use it in a crummy way, you might as well be playing that $99 Amazon deal-of-the day instrument.

Conversely, you could be starting out with that $99 special and take a little care with pick choice–find one that really sounds good and suits you–and make much better music!
All right. Let's talk picks...
You can help keep this show going and growing by becoming a GrassTalkRadio Supporter.
If you enjoy the show you can also support what I am doing by visiting my online store at http://www.payhip.com/bradleylaird.
Additional information about the podcast is always found here on the episode show notes page: http://www.bradleylaird.com/podcast/episode-110-show-notes.html
GrassTalkRadio is a show for people who love making music with wooden boxes, strung with wire and plunked with bits of plastic or other semi-flexible materials... and let's not forget that high, lonesome wailing. Yeah!