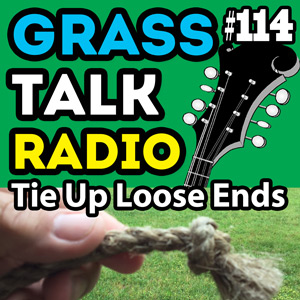 GrassTalkRadio.com - Episode 114

Tie Up Loose Ends

In this episode I talk for a bit about my leap of faith in you and then I get on with a list of ten things you can do to tie up some loose ends.

There are always things awaiting your attention and perhaps today is the day to make your own list of 10 things that you have been meaning to do. Take care of them and, when you've checked off all 10, you'll sleep better that night.
You can help keep this show going and growing by becoming a GrassTalkRadio Supporter. The question is: Will you? I hope that you will.

If you enjoy the show you can also support what I am doing by visiting my online store at http://www.payhip.com/bradleylaird.
Additional information about the podcast is always found here on the episode show notes page: http://www.bradleylaird.com/podcast/episode-114-show-notes.html
GrassTalkRadio is a show for people who play bluegrass music–a participation sport which only survives through the activity of the fans who also play and sing it.