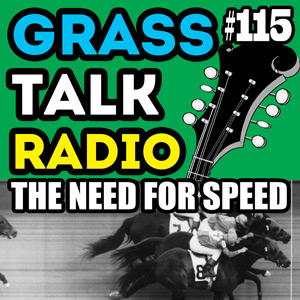 GrassTalkRadio.com - Episode 115

The Need For Speed
This past weekend I played a Kentucky Derby Party gig on bass with The Pluck Tones. That, and that screwy contested result, got me thinking about speed and the need for speed.
Then, out of the blue, I got an email from a fellow who stated he was struggling to keep up with the speed demons in his bluegrass jam. This podcast is a full response to his email with tips for how to keep up when the tempos get insanely fast.
If these thoughts and ideas help you I hope you will keep this show going and growing by becoming a GrassTalkRadio Supporter.

You can also support what I am doing by visiting my online store at http://www.payhip.com/bradleylaird.
Additional information about the podcast is always found here on the episode show notes page: http://www.bradleylaird.com/podcast/episode-115-show-notes.html
GrassTalkRadio is a show for people who play bluegrass music--the music which takes a mournful theme and sets it against a speedy, uplifting beat. Talk about juxtaposition!