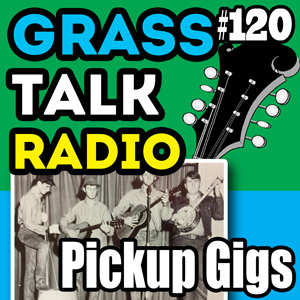 GrassTalkRadio.com - Episode 120

Pickup Gigs

This episode is a rambling discussion of pickup gigs. Those are the sort of gigs which are done with no rehearsals--just a collection of musicians who show up at the same place and at the same time--and somehow, seemingly by magic, sound like a real band. I tell you my strategy for that sort of gig.
I also answer a listener question regarding learning and performing bluegrass with electric bass instead of an upright. I have been asked by several people recently whether or not my Bluegrass Bass Instruction Course can be used with electric bass and it certainly can.

This discourse takes the usual Ranger Brad Style of meandering turns and touches on the need to have some understanding and appreciation of Bill Monroe, the size of catfish in the Flint River, the nocturnal feeding habits of large carnivorous reptiles, and the question "Should you have a crop duster bomb your home?" Have fun.
Technical note: I noticed a couple of tiny "dropouts" in the audio this week, probably caused by my museum artifact Mac G3 recording setup, which I hope you will overlook. I have a bass gig today and just didn't have time to go back and investigate the causes. It does not detract from the content.

If this podcast helps you I hope you will keep this show going and growing by becoming a GrassTalkRadio Supporter or you can join "the club" over on my Patreon page.

You can also support what I am doing by visiting my online store at http://www.payhip.com/bradleylaird.
Additional information about the podcast is always found here on the episode show notes page: http://www.bradleylaird.com/podcast/episode-120-show-notes.html
GrassTalkRadio is a show for people who play bluegrass music.